I hope you enjoy the next in what will be an occasional series of guest blogs from our Collectivists.
Entitled 'Castaway' in an homage to the marvellous 'Desert Island Discs' I have asked our artists to choose five pieces of art which they would like to take with them to their island hideaway.
In this blog, one of our original Collectivists, Alan Glasgow chooses his five favourite pieces.
Alan is an Edinburgh based artist who works from the studio within his house.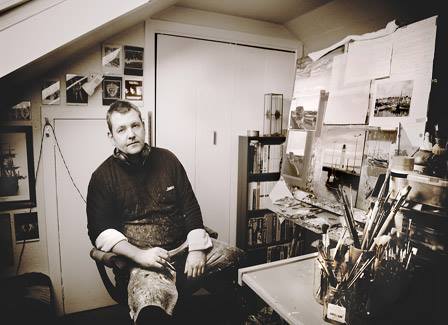 Over to Alan:
"After studying at Art College I have been fortunate enough to maintain my career as a working freelance artist.
Alongside working on my own paintings, my work has been very diverse: from creating and developing cartoon characters for DC Thomson & Co Publications through to teaching art.
I mainly paint using acrylics on canvas and paper. I aim to achieve well balanced paintings by the use of colour, shadow, reflection and subject matter.
Art has always been an important part of my life. I first became aware of the power art can bestow on us when I was younger collecting records. The artwork on the sleeves inspired me to start creating my own work.
I have always had a fascination for the sea, the water, skies and reflections. I like to depict a sense of peace and tranquility and transport the viewer to a place of serenity and contemplation.
With my historical buildings I like to paint the minute details to give a sense of realism however with using a palette of saturated colours it allows a slight sense of surrealism. The purpose being to invite the viewer in to explore further.
In this painting I love the effects of differing light sources, natural and artificial. The reflections on the wet surfaces being enhanced by the light sources. So much detail in this painting with the tree branches silhouetted against the moonlit sky. This painting is so realistic that the viewer is invited to walk along and take in this nocturnal scene. The only noise to be heard is the sound of the horse and cart on the cobbled street.
In this painting you are transported to another place, a beautiful city at nighttime.
It is peaceful and serene with the moon light highlighting all the small details in the painting. The reflections in the water enhance the tranquility and allows us to reflect on this perfect evening of a city almost asleep.
It welcomes us in and invites to stroll along wondering on the beautiful architecture that lies ahead
A beautiful painting in which to lose oneself..
This was painted during the Dutch Golden Age. It depicts a street in Delft. Vermeer has captured everyday life, the mundane and prosaic and has us transfixed. It has a voyeuristic feel about it, we are watching life go by and are transported back in time. I love the colour palette used, rich burnt orange against the cool blue/green sky. The colours being replicated in the foliage, shutters and clothing.
This painting I admire for it's use of light and shade (chiaroscuro) and how it embodies all of our human emotions.
This painting depicts a true historical event when a French frigate ran aground on a sandbank.
The officers took the lifeboat and the passengers and crew made a raft. It floated for 13 days at sea. Gericault was so moved by this that he interviewed a couple of the survivors and decided to paint this tragedy. He has encapsulated the dead, the dying, those whose lives are hanging in the balance. The pain, suffering, grief, trauma and despair. However there is also hope and elation as tis is the exact moment a ship is in sight and someone is waving to try to get the ship's attention.
By Hans Holbein the Younger 1532.
The level of artistic prowess in this painting is outstanding; the detail and the different textures in the fabrics, the wood, his hair and skin creates a very accurate and intimate portrait.
There is so much going on in this painting and yet our eyes are still drawn to the sitter's gaze. I am intrigued with paintings that have hidden meanings in them. There is a lot of symbolism going on in this portrait.
On his desk is a collection of merchant's marks and seals showing us that he is a merchant.
The carnations in the vase symbolise an engagement or a betrothal. Correspondence is featured in this painting with a letter he is holding from his brother and various letters filed away with different spellings of his name representing he had connections in other countries."
If you would like to see Alan's work, please follow the link below, or come into the gallery!
Alan Glasgow – painter – Art & Craft Collective (artcraftcollective.co.uk)