Leaving Lockdown Exhibition
Ninth of April to the 30th May 2021
Amy in her own words:
"Born and based in Fife, I'm 17 and currently in my final year of High School, completing my Advanced Highers. I taught and surrounded myself with art during most of my childhood, to then go on to study it throughout school and I am planning to study Fine Art at University later this year.
The concept of interpreting and translating information into drawn or painted decisions has always fascinated me. Seeing art as a process to search for something, to figure something out, or as a record of the many challenges and decisions that I've faced while creating, is more inspiring to me rather than defining it solely on the final solution. I don't want to limit myself to one style or subject matter; my art is evidence of the many ideas, preferences, challenges and decisions I have had over many different experiences and time frames. They are my own reminders of how it takes a lot of courage to start creating something and to work through any frustrations or self-doubt. I don't feel fulfilled unless I have experienced that anxiety when working on a piece. I normally aim to lack any false senses of security – I believe a form of ego will take over and make decisions that I won't be learning and hence improving from.
I am fortunate enough to have won first place in the intermediate category of the 2019 RSAs as well as being longlisted for the 2020 SPAs. Through my participation in regional and national competitions I have engaged deep and meaningful conversations with a much wider audience about my work and as a result, I have learned to embrace exposure and the constructive vulnerability it brings to a young, aspiring artist such as myself."
Mum:
Medium Oil, 21 x 26 cm. Price £250 (framed)
Sleeping:
Medium Clay, 17 x 13 cm, Price £200
Rest:
Medium Oil; 28 x 18 cm; Price £250 (framed)
Jack:
Medium Charcoal; 54 x 42 cm; Price £300 (framed)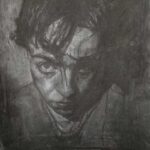 Grace:
Medium Pencil; 32 x 30.5 cm; Price £400 (SOLD)