I hope you enjoy our second in the occasional series of guest blogs from our Collectivists.
Entitled 'Castaway' in an homage to the marvellous 'Desert Island Discs' I have asked our artists to choose pieces of art which they would like to take with them to their island hideaway and instead of a book and a luxury, to select the artist that they would most like to share the island with and the equipment that they would most like to take with them. (I will give them an unlimited supply of paper!)
Here is Ian Pearsall's selection. Ian is one of our more recent Collectivists and came to the Gallery thanks to the positive power of Twitter! I saw his work (he is based in Stoke on Trent), liked and commented on it and before you know it, he had his first Scottish exhibition here! Another is planned for early next year, so watch this space! And we still have some of the works from that first exhibition in the Gallery.
'Three Studies for figures at the base of the Crucifixion'
Francis Bacon (1944)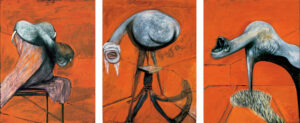 This has to be the most influential painting of all time for me. I recall the first time I ever saw it. I was a student at Newcastle-Under-Lyme College in my first year on the 'A' Level painting course on a college trip to the Tate Gallery in London in 1984. I love it's violence – it never fails to unnerve and disturb. This painting both terrifies me and continues to show me that the most important mission in (my) art is to COMMUNICATE. I had just made the move from my childhood home back in Malawi out onto a brave new adventure to a country I really knew nothing about. My parents were five-thousand miles away in their expatriate world of blue skies; mowed lawns and gently trickling swimming pools – and here I was; in a place where world events were being shaped – a country writhing in the throes of it's own savage political and social hubris – and I, a naive boy in this dangerous new world. The Catalogue of Francis Bacon thrills; excites and continues to resonate now as it always did since seeing this piece. I had just arrived into a state of infinite possibilities with everything to lose!
'Sarajevo'
Ralph Steadman
Silkscreen print

Ralph Steadman is the master creator. He is generally summed up as a 'cartoonist' which I hate – because here is an artist who makes the extraordinary connection between a razor-sharp analytical brain-eye-and-hand most seamless. He extracts and exacts the last drop from every medium he turns to in a deadly creative armoury; silkscreen printing, collage, painting, extraordinary draughtsmanship, photography and even sculpture to screamingly convey raw visceral solutions for messages that nail the point to the viewers brain. 'There is no such thing as a mistake' he emphasises on describing getting the message down on paper. The materials speak.
'Choice of Outfits for the agonies of Mary'
Joel-Peter Witkin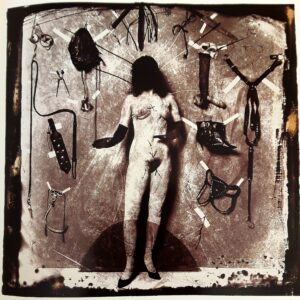 'I have consecrated my life to changing matter into spirit with the hope of someday seeing it all.
Seeing it's total form, while wearing the mask, from the distance of death. And there, in the eternal destiny, to seek the face I had before the world was made.' J-P W.
Within a week of being at University I was strolling through town in a new state of independence. I passed a newsagents – in the window I spotted a copy of PhotoVision with a strange image on the front cover; a photograph (as it turns out) titled 'Leda'.
It was absolutely thrilling, and mesmerizing. I purchased the magazine on face value which it transpired was a monograph on the photographer Joel-Peter Witkin. Sometimes we must judge a book by it's cover; his portfolio within unleashed a desire to seek the art of expressing without fear. We must do what we want to do and hope that we find the answer – without fear of never finding it! Live it …
Which artist would I take with me? (Alive or dead?)
Too many and who am I to dare to ask of their time? My latest 'discovery' (and I thrillingly own a single piece of her work) Eleanor Adair – one to watch!
Of course if Eleanor didn't have the time then I would set about this list; Jenny Saville, Tracey Emin, Dominique Cameron, Jack Simcock, Pablo Picasso, Carravaggio, Vincent Van Gogh, David Tress, Andrew Wyeth, Norman Raine, H.R Giger, Rene Uderzo, Herge … I'm scratching the surface ….
What art equipment would I take?
A photocopier… and I'd sneak a charcoal stick in my pocket!!