FRANCES THWAITES (1908 – 1987)
We are delighted to have the opportunity to show a small selection of pieces (including the last two works she completed) by the respected Scottish abstract painter Frances Thwaites. Her work will be on display throughout April.
Born in India, where she spent her childhood, Frances Thwaites (known as Frankie) studied stained glass at the Edinburgh College of Art where she won several prizes and scholarships to London and Paris.
Between 1946 and 1948 she studied sculpture before turning to abstract painting, exploring the linear and spatial relationships in landscapes by superimposing darker heavy lines and curves on a subtly coloured background giving an impression of movement capturing the atmosphere of a place.

Although based in Edinburgh, she often spent time in London, Paris and Palma de Mallorca and in the 1960s visited Australia, Tahiti and the United States, staying in California for several months.
She exhibited regularly at The Scottish Gallery in the 1950s and 60s and took part in "The Modern Spirit in Scottish Painting" exhibition in 1986. She had solo shows at the 1957 Gallery and the Talbot Rice Gallery in Edinburgh, the Pitlochry Festival Theatre, the Compass Gallery in Glasgow, the Pier Arts Centre in Orkney, Kettle's Yard in Cambridge as well as Galerie Lambert in Paris and Galeria Latina in Palma de Mallorca.
She participated in many important group exhibitions in London and Edinburgh alongside Anne Redpath and Elizabeth Blackadder and other well regarded Scottish visual artists.
Her work is represented in the collection of the Arts Council and in private collections in Britain, France and the United States.
For the first time since her memorial exhibition in the early 1990s, four of her paintings will be exhibited in the Art & Craft Collective Gallery from the beginning of April.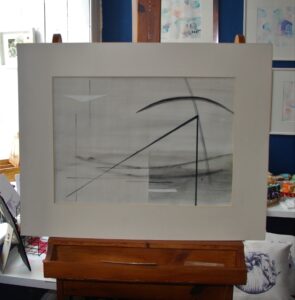 Frankie's daughter loaned many of the paintings her mother left to her to friends and family so that they were displayed and enjoyed. The ones that she kept will be on sale and are the only Frances Thwaites works available on the market at this time. The two unframed works in the exhibition are the last pieces she completed before her death.
Well reviewed and successfully exhibited during her lifetime, Frankie has unjustifiably become one of the forgotten artists of the twentieth century. We hope that this small exhibition will remind abstract art lovers of the quality of her work.