I hope you enjoy the latest in our occasional series of guest blogs from our Collectivists.
Entitled 'Castaway' in an homage to the marvellous 'Desert Island Discs' I have asked our artists to choose pieces of art which they would like to take with them to their island hideaway and instead of a book and a luxury, to select the artist that they would most like to share the island with and the equipment that they would most like to take with them. (I will give them an unlimited supply of paper!)
Our third Castaway is Rona Innes
Rona is one of the original members of the Collective and I have known her for many years.  Originally from Aberdeenshire, Rona lives and works in Edinburgh. 
She aims to combine her love of nature, ancient artefacts, Japanese woodblock prints and contemporary art into a unique and recognisable style. 
Rona is a mixed media artist and works with a range of materials including paint, ink, pencil, charcoal, collage and digital tools.  She enjoys painting on wood and incorporating the natural wood grain into her artwork. 
Along with painting and drawing, she designs and illustrates a range of wearable art and functional products including outdoor sports scarves made from recycled bottles, homeware and stationery.
Rona has artwork in six continents and one of her dramatic paintings hangs in an office in the Scottish Parliament.
She is especially fond on corvids so you will often find a crow hiding in her artwork!
Edvard Munch – 'Madonna' and 'Sick Child'
There are many versions of both these images: drawings, paintings and prints. In both cases I have chosen the prints over the paintings.
'Madonna', 1895–1902, 60 x 45 cm – lithograph combined with a woodcut
Aged around 15, I bought a postcard of Munch's 'Madonna' oil painting from an art gallery shop and still have it in my studio.  My favourite version is this print, which completely blew me away. The limited palette and bold line work is powerful and more graphic. She's not a weak, submissive Madonna, she is in control and has attitude! Best of all, this version has the curious red border with the ghoulish foetus lurking in the corner. I became quite obsessed with the foetus on my National Diploma course and ended up creating a sort of shrine/installation to it (which later ended up in a room in my rented flat) I even painted a foetus symbol on a fellow student's garden wall as part of a mural!
'Sick Child', 1896, 42 x 57 cm
This melancholy portrait is one of my all time favourites and was based on Munch's childhood memory of his sister Sophie, moments before she died of tuberculosis. This lithograph focuses on the head and shoulders of the dying girl, whereas the series of oil paintings show the room and a dark-haired, grieving woman kneeling at the bedside. Munch has captured something very powerful, beautiful and incredibly moving. It was Munch's first attempt at colour lithography and he used a sickly limited palette of yellow, red and grey. He is quoted as saying, "Few artists ever experienced the full grief of their subject as I did in The Sick Child." There's little doubt his real life experience is what gives this print it's realness and soul and seeing it in a gallery was especially poignant.
Der Blaue Reiter (The Blue Rider) group
The Bauhaus art school and especially Der Blaue Reiter group of artists have inspired me over the years, especially the work of Paul Klee and Franz Marc.
Franz Marc, 'Die Wölfe (Balkankrieg)', Oil on canvas, 1913, 140 x 71cm
A few years ago I visited DerBlaue Reiter exhibition in Basel. Seeing a timeline of Franz Marc's life's work in chronological order was extremely moving. His flowing curved lines and planes of bright colours depicting his beloved animals in peaceful scenes suddenly gave way to a chaotic and disturbing painting in dark, bold colours with aggressive angular lines depicting animals which are injured, numb with fear or dying. This change in style, brought about by the oncoming threat and danger of the 1912 conflict between the Balkan League and Ottoman Empire, seemed totally abrupt and terrifying.
It was heartbreaking to read that a few months after creating this painting, Marc was drafted into the Imperial German Army. It wasn't all bad, he had a knack of coming up with undetectable camouflage patterns and enjoyed putting his skills to use painting huge canvases to hide vehicles. Sadly, just two years later, he was killed by a stray shell and never found out that the government had identified him as a notable artist and orders were on the way to discharge him from the army so he could return to his studio. To me, this painting perfectly captures the unfairness and horror of war.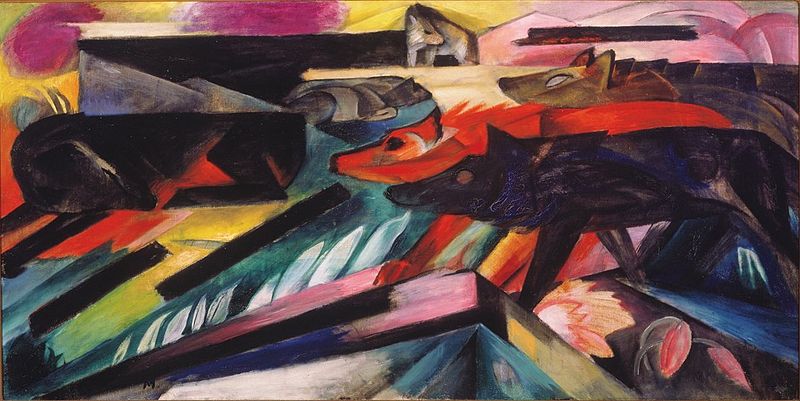 Paul Klee, 'Around The Fish', Oil and tempera on canvas mounted on cardboard, 1926, 47 x 64 cm
The bold hues of mostly primary colours, against the dark background in this oil painting are sublime. I am fascinated by the cosmic free-floating objects and symbols orbiting the fish which is either swimming in a pond or dead on a plate, I can't really tell, but my interpretation is that it is in a inky pool of deep water and very much alive. To me, the symbols represent evolution and science, but also religion, time and the astral plane. It was painted soon after the Nazis rose to power in 1933 and Klee was suspended from his teaching position in the Bauhaus, where the work was described as "degenerate art" and derided as childlike, disorderly, and confused. These are the qualities that resonate with me and draw me into his work.
Jean Michel Basquiat, 'Cabeza', Acrylic and oil sticks on a blanket stretched on wooden supports, 170 x 152 cm
I have a reproduction of this painting on a coaster so it's part of my everyday life. I am drawn to the expressive mark making, the scale, the contrast between the solid black figure and the yellow and orange background, the mysterious word, the unusual use of materials and his trademark visible internal organs drawn on the figure.
Basquiat was incredibly successful at distilling all the elements that make him who he is into his paintings – his ancestry and cultural history, the 1980s New York art and music scene, graffiti, his first hand experience of racism and police brutality towards young black men, his vast knowledge of the body learned from intently studying Grays Anatomy as a child (when he was in hospital after being hit by a car), a deep understanding of symbols, consumerism and the constant stream of background noise from cartoons, TV shows and adverts, all channeled into something very personal and unique.
I have numerous Basquiat books and merchandise including three t-shirts. In 2017, I travelled to London to see a retrospective of his work at the Barbican. Seeing his paintings together and the sheer volume of work he created in his short career was an impactful and humbling experience.
Pre-Nazca and Paracas art:
Pre-Nazca pottery and Paracas textiles from Peru really appeal to me and I've spent time in museums observing and sketching them. I particularly love the patterns and colours. Indigenous people, plants, animals and birds are simplified into decorative patterns and stylised to flow around and fit into shapes. Some of the symbols remind me of creatures on Pictish Symbol Stones from north east Scotland. They have so much personality.
Utagawa Kuniyoshi, 'Prince Yoshitsune learning the art of swordsmanship', Wood block print, 1858, 75 x 36cm
Ukioyo-e is one of my biggest influences. I have a lot of reference books and go out my way to visit exhibitions by masters such as Yoshitoshi, Hiroshige and Kuniyoshi. I have chosen this Edo period woodblock print by Kuniyoshi. I love everything about it – it's humourous but has a dark narrative and the dynamic composition and use of colour is incredible. There is so much going on in these three panels. Some of the birds have mean, comical expressions and are beating up the prince with sticks, others look forlorn or are ignoring the fight altogether. Figures are approaching in the background, observed by one of the birds and then there's the mysterious dark vertical section with three stylised flying birds which descends into a dark void. It's a stunning and highly complex piece of work. I'm also a fan of ancient Chinese landscape painting and sumi-e and can never get enough of it.
Which artist would I take with me to the island?
If I can take one of my artist friends that would be my first choice, otherwise Tove Jansson would be good as she was outdoorsy and a creative all rounder so would find plenty of things to do. She spent a lot of her time on remote islands in Finland with limited facilities so is used to that lifestyle already. Ideally I'd discover there were people living on the island who would teach me about their local art and crafts.
What art equipment would I take?
If I could start a fire I'd make my own charcoal and draw on rocks and found objects. I would make my own pigments and dyes. I used to do this as a child when camping on an island in a Highland loch. I would bring a knife for cutting or carving and rope plus some cans to hold water. I might bring some brushes of various sizes too.