I hope you enjoy the fifth in the occasional series of guest blogs from our Collectivists.
Entitled 'Castaway' in an homage to the marvellous 'Desert Island Discs' I have asked our artists to choose pieces of art which they would like to take with them to their island hideaway and instead of a book and a luxury, to select the artist that they would most like to share the island with and the equipment that they would most like to take with them. (I will give them an unlimited supply of paper!)
Craig joined the Collective quite recently. He largely paints impressionistic views of his home city, particularly Stockbridge and The New Town where he is based.  We are lucky to have three original paintings (as well as signed prints) of Edinburgh landmarks nearer to our gallery on the Southside: The Meadows in Spring, St Giles and Edinburgh Castle.
He also takes inspiration from his extensive travels around Italy. With a love of the Scottish Landscape greats he strives to capture colour, light and atmosphere in his paintings.
Craigo has a background in design, photography and marketing. He studied and worked in the South of Scotland, North of England and briefly in Holland before he fell in love with Edinburgh and developed his passion for oil painting.
'Poets Pub' by  Alexander 'Sandy' Moffat' 1980. 
I love this painting and the image that it portrays of Edinburgh as a hub for intellectuals, thinkers, poets, and artists.
As a student, Sandy Moffat shared a studio in Rose Street with John Bellany and they haunted the bars nearby, where there was a thriving bohemian atmosphere full of artists, musicians and poets – not just tourists like now.
The pub depicted is an amalgamation of Milne's, the Abbotsford, and the Cafe Royal.
I first became aware of the painting on my earliest visits to Edinburgh as a boy and my principal interest was Hugh MacDairmid, who is central in the painting. MacDairmid was born in the same small Borders village as me, and was always the subject of fascination when he occasionally returned and was (unfortunately) treated with a degree of suspicion and disdain by the locals who would gossip "He's communist you know" – but that added to his mystique for me.
The other writers and poets depicted are Norman MacCaig, Sorley Maclean, Iain Crichton Smith, George Mackay Brown, Sydney Goodsir Smith, Edwin Morgan, Robert Garioch, and in the foreground is Alan Bold.
'The Piazzetta, Venice' by Joseph Mallord William Turner (1840)
Scotland's National Gallery was bequeathed an amazing collection of Turner watercolours by art collector Henry Vaughan in 1900. Since then, following Vaughan's strict guidelines, they have only ever been displayed during the month of January, when natural light levels are at their lowest.
My favourite painting from this collection is 'The Piazzetta, Venice', which would perhaps have to be a reproduction for the desert Island because of the sunshine!
Turner was so innovative, original and ahead of his time as a landscape painter – no one has quite surpassed his ability to capture light and atmosphere.
The Scrovegni Chapel (Cappella degli Scrovegni) Padua by Giotto (completed around 1305)
I'm being a little greedy adding this as a choice, but I would be happy to have a VR headset version of this masterpiece on my island.
The chapel contains a 14th-century fresco cycle by Giotto, located in Padua city centre. It is a 'must see' highlight for me.
Maybe smaller scale than, say, the Sistine Chapel, but seeing this is a truly amazing and moving experience – the intense blue is what initially hits you upon entering and then you are drawn to the humanity and expression of the figures.
Giotto was the first artist to capture this emotion and humanity, and was a true innovator.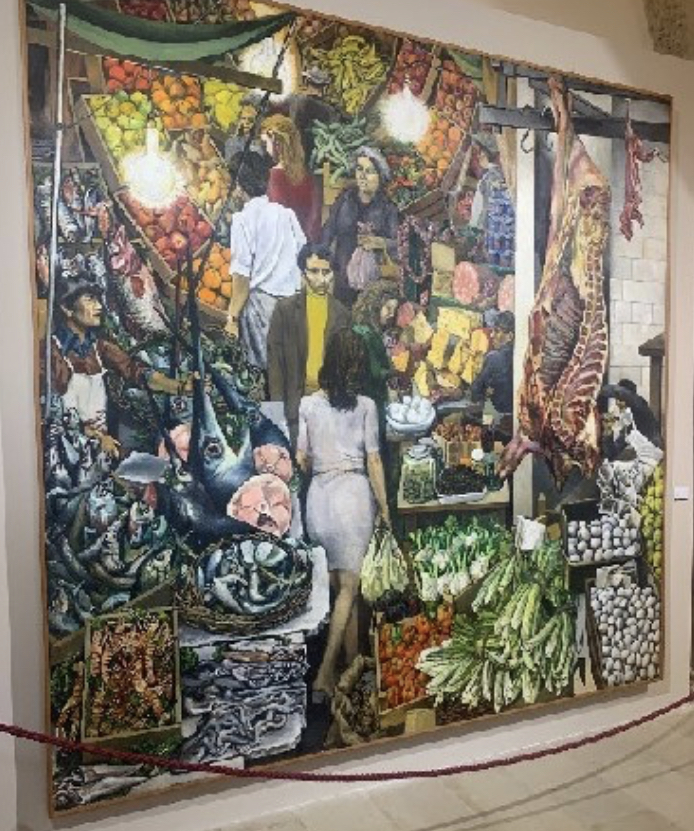 "La Vucciria" by Renato Guttuso (1974)
When Guttuso moved to Palermo as a student in the early 1930s, the lively La Vucciria market was one of his most striking first encounters. It still has the same haphazard charm and an air of 'all life is here' today.
The large 300 x 300 cm painting was not done until 1974, when he was living in Lombardy and when he had fallen a little out of fashion.
With bold colours and a raw sense of realism, Guttuso expresses the true spirit of the Sicilian capital. The bustle of daily life and the importance placed on food contrasts with darker elements which perfectly encapsulate the complexity of Palermo.
I went to see this amazing painting, now housed in Palazzo Chiaramonte-Steri, the last time I visited Palermo and it is a firm favourite that takes me back every time I see a reproduction of it. 
'An Egyptian Interior' by Arthur Melville (1881)
I'm a huge fan of Melville and love his precise but loose brush marks and how he captures a sense of light and shade in his work. He died aged 49 but would have surely went on to receive greater acclaim had he lived longer.
The painting was worked up from sketches he made in Cairo in 1881.
The intricate patterns of the mashrabiyya woodwork of this interior, balanced against a looser treatment of reflective materials and surface patterns within the room make this painting a stunner.
Which artist would I take with me to the island?
I would take Leonardo Da Vinci – it would be great to time travel to the mindset of the great master and he would doubtlessly be a great asset who would invent things to make life easier on the island.
The downside would be that his genius might inhibit my own ability to feel worthy to paint! 
What art equipment would I take?
A lifetime supply of oil paints, and canvas!
Craig is running an oil painting workshop for us on Saturday October 21 between 10 and 12.30 pm. He will be teaching the painting of clouds and skies. Head to our events page for further details and to book. Painting Clouds and Skies: a workshop by Craigo Arts – Art & Craft Collective (artcraftcollective.co.uk)